About Scorio
About scorio
"nanos gigantium umeris insidentes"
We are dwarfs sitting on the shoulders of giants

Three reasons why scorio is the right place for you
1. scorio is a platform where you can easily write, find and share sheet music … more
2. scorio is built on open technologies , that function with any Web browser … more
3. scorio has a free offer for you … more
Our vision
All creative music makers should have free access to the entire wealth of modern and traditional music and be able to find all the tools they need to perfectly support their creative processes in an open and communication-based environment.
Our contribution
We are developing a platform for anyone who wants to write, share and find sheet music online. scorio.com is a tool for Web 2.0 that is designed for writing notes (Note Editor) and finding musical works on the Web (Music Search). scorio.com can be easily used in any browser, bringing together composers and other musicians (community) and providing a framework for the greatest possible diversity of music-writing styles.
The scorio team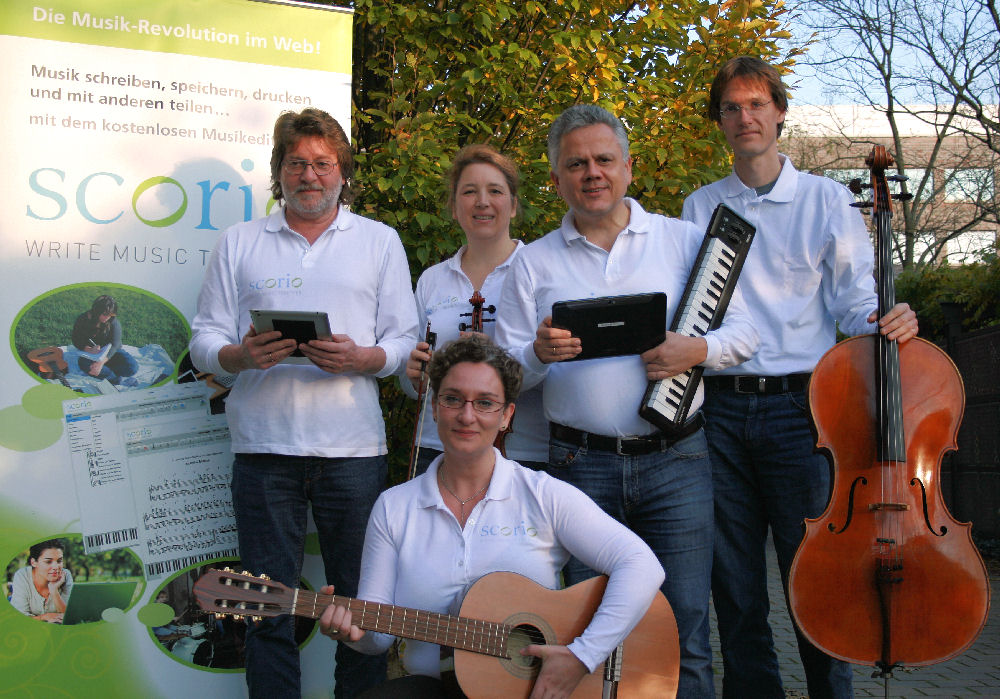 Johannes Feulner, Head of scorio. After studying computer science and musical education in Karlsruhe and at Rutgers University, N.J., USA, he spent several years working in the special research field of music and computer science at Karlsruhe University. Together with Hermann Hild, he developed algorithms that learn with neural networks and are capable of independently composing accompaniments for melodies based on historical pieces. In 1994 he co-founded the software company fun communications GmbH. Together with the company, he has been playing a significant role in developing services for major Internet service providers for more than 16 years. Himself a music teacher, organ player and hobby composer, he always missed a means of easily writing music online, and so he founded the music portal www.scorio.com. As a link between the worlds of music und computer technology, Johannes Feulner is exploiting the long-standing technological expertise of fun communications in developing scorio.com.

Karin Höthker, scorio architect and developer, studied mathematics at the Rhine-Westphalia Technical University in Aachen. She then worked at Karlsruhe University focusing on the research field "Music and Computer Science", where she graduated with a thesis on the theme "Feature modelling for machine-based learning of musical styles". Having spent several years working as a software engineer for a major software company in Munich, she was given the opportunity to return to music and computer sciences and contribute to setting up scorio. She is convinced that a note editor should be a tool as readily available to music fans just as word-processing programs is to authors.

Holger Schufflitz, scorio developer (iOS).
Former team members
Dominik Hörnel, scorio architect and developer. After studying computer science at Karlsruhe University, he also worked there focusing on the research field "Music and Computer Science", graduating with a thesis on "Learning musical structures and styles with neural networks". From the results of this work he then developed the algorithms for the music composition program tonica fugata. Before becoming enthusiastic about scorio, he gathered several years' experience as a software engineer and architect at a major software company in Munich. Passionately interested in music as a hobby, he is playing the cello in various orchestras and chamber music ensembles.

Audrey Wetterwald, scorio marketing and public relations, studied business management in France at Ecole Supérieure de Commerce de Dijon. Following a further year on an exchange programme at the technical university in Pforzheim focusing on business administration and the advertising industry, she initially worked as a PR speaker for a renowned advanced training institute. Having gathered over 13 years' professional experience in the marketing departments of various medium-sized companies, she most recently worked for the online marketing division of a leading Internet service provider. Here she developed a special affinity for the online world, and that is why she is convinced that a Web-based and free sheet music editor is an absolute must for the Internet.