Web Content Display
The Music Folder for your iPad – play and practice your music when and where you want.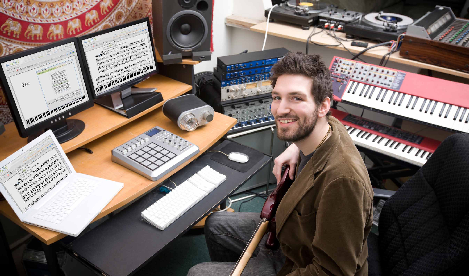 Write your music online!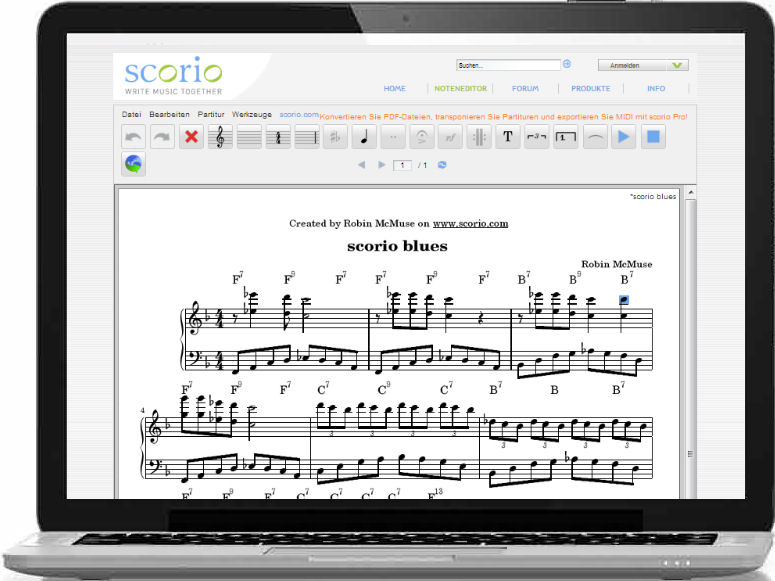 Edit your music when you're on the go!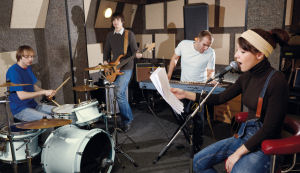 Practice your music anywhere!

The
scorio Music Case
is the perfect companion for musicians who are often on the go and want to practice their music anywhere. Imagine the following: you arrange a piece for your band or choir online in the
note editor
from scorio.com. The piece can their either be
published on scorio where others can edit it or
printed and sent as a PDF file by e-mail.
You can also take a device with Internet access to your next band practice and directly incorporate comments or changes into the piece online.
When the piece is finished, you can play it back anytime with the
Music Case
, sing along to it or acoustically fade out the instrumental parts and play them yourself. Thanks to registration via login and password, you can access your music and numerous scores from the scorio music search function at any place and at any time.
Try it out now and download the
scorio Music Case
for a
one-time fee of $3.99!
Web Content Display
The iPad as interactive sheet music
With the scorio Music Case, you have mobile access to your scores – no matter whether they are scores you wrote yourself on scorio or those from famous composers. The Music Folder also offers the sale of scores from renowned music publishing companies, among other things. For a start, we have concentrated on famous operatic arias from Verdi, Donizetti, Bizet and Wagner. Other arias and pieces of music will be added shortly.
The scorio Music Case offers much more than just score display. Thanks to the flexiScore® Technology developed by scorio, you can adapt your music to your individual needs. For example, you can freely scale the note image. The score is reset to your customized note size and adjusted to the size of the display.
In addition, you decide where you want to position the page breaks. This means you'll always have a free hand when you have to turn pages. If you need another key right away, this is also no problem for the Music Folder. With the "Transpose" function, every score can be transposed into another key with the press of a button.
And with the integrated MIDI studio with 128 instruments to choose from, you can freely define the tempo and volume of each individual part of a piece. Your own voice can be faded out or played particularly loudly for practice purposes.

These arias are available among many others through In-App Purchase in the scorio Music Folder:
Web Content Display
An overview of the Music Case functions
Scores from different sources in one place
Self-written scorio scores
Published scores from the scorio search function
Scores purchased from music publishing companies in the In-App Store
Making music and studying
Horizontal and vertical music displays
Playback of every score with MIDI playback
Beat cursor follows the music during playback
Automatic page turning during playback
Instrumentation can be freely selected for every part (128 instruments)
Regulation of every individual part
Play along: fade individual parts in/out
Changing playback key (with the same note image)
Changing standard pitch
Adjusting tempo during playback
Turning pages possible with AirTurn® Foot Pedal
AirPlay® possible with Bluetooth or WLAN

Arrange scores with flexiScore® Technology
Reset note image with selectable zoom
Transpose key of the note image
Set page breaks exactly to the beat.

Pluscore® Functions in all scores by Schott Music
Conduct with the virtual conductor:

Dynamic control of tempo and volume
Record and play back your own interpretation

Record and play back voice with accompaniment