Web Content Display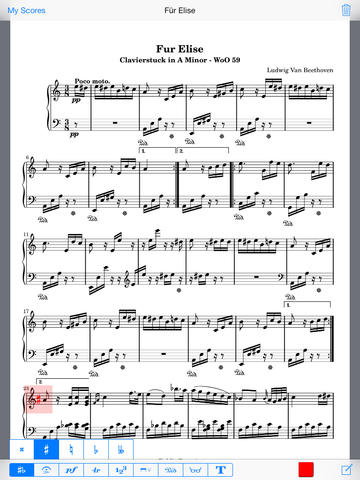 The scorio Music Reader reads any music PDF file from any source. Thanks to the web connection of all scorio products, you can use scorio Music Notator to export your own scores at any time as PDFs and load them into the new app. PDF files found in web browsers can be read in directly by the reader. So you always have your music on you.

The scorio Music Reader integrates two complete web searches for this purpose. The user can reach the IMSLP databank directly, also called the Petrucci Music Library, or a search engine. The Petrucci Music Library currently contains over 76,000 works in about 270,000 music files (both music notation and PDF files). This library is continuously being expanded. As soon as the desired PDF document is found and clicked on, it is imported into the reader. From there, it can be read in immediately and edited with annotations. The end of the sheet music collection is upon us!

The imported PDFs can be used at any time and without an Internet connection. If you have foreign PDFs on your iPad – e. g. in your e-mail program or in another app – you can also load these in the scorio Music Reader. Another advantage of the new scorio Music Reader is not only are the notes razor sharp but– as with paper – the pages can be turned from left to right, not scrolled.

But that's not all! The PDFs can be refined for study or practice purposes with the different annotation options of the reader. The users can take advantage of free text entry or pre-defined music symbols. The following symbols are available: accidentals, articulations, dynamics, trills, pedal signs and much more. A total of 60 music signs are available to users.